So I decided to join in on the So What! Wednesday linkup with
Shanon from Life After I "Dew"
. She does this linkup every Wednesday and for the last couple of weeks I've been reading everyone's posts, so today I decided to jump on the bandwagon :).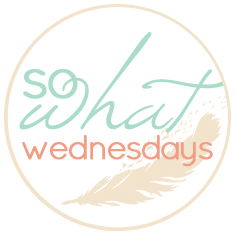 So What If....
I avoiding playing catch up on school work and doing this instead!
My kid is crying for popcorn and we are out...bad mom, right?
I haven't worked out since last Monday.
I'm making my husband leave work to bring me my phone charger he took to work on accident, this girl can not function without a phone. KILL ME!
I haven't started on the loads of laundry I have waiting to be washed.
Well, I guess I better go get started on all that non-sense.
Until next time :)
XOXO